Curriculum
The Swift Explorers Singapore (SES) 2023 was conceptualised to support Student-Initiated Learning. It is open to students in Primary School, Secondary School, Junior College and Millenia Institute. All schools will participate in Phase 1 and 2. The top teams will be selected to participate in Phase 3.
Programme Overview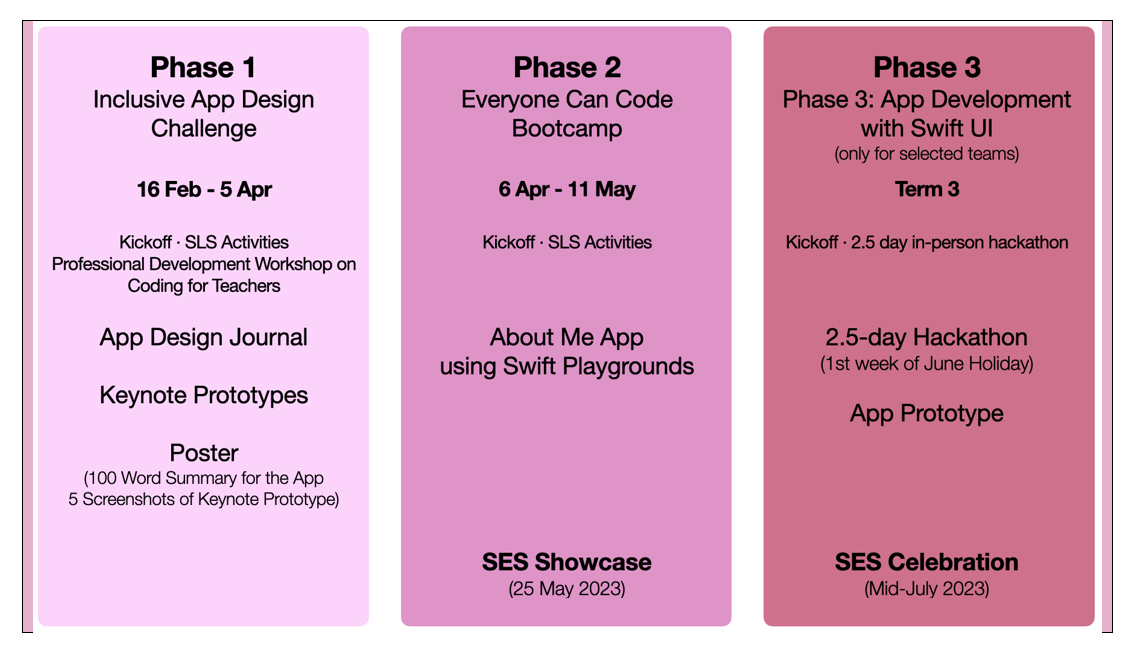 Lesson Outline
Phase 1: Inclusive App Design Challenge
Introduction to Keynote, Freeform, and the App Design Journal
Brainstorming
Planning
Inclusive Design
Designing with iPadOS
Introduction to Prototyping with Freeform
Prototyping with Keynote
Phase 2: Everyone Can Code Bootcamp
Get Started Coding with Swift
Commands, For Loops, Conditional Code
Logical Operators, Variables, Types
Initialisation, Functions, Parameters
Get Started Building Apps in SwiftUI
Stacks, Text, Layout, Images
About Me app
Swift Explorers Showcase
Phase 3: Build Apps with Swift
2.5 day face-to-face hackathon
Swift Explorers Singapore Celebration 2023
The lesson plan provided above is subject to change.